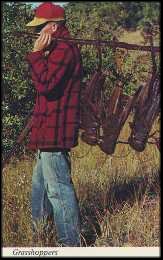 a.k.a. Frederick Learns, joecacti, Fred Miller, Francis Farley, Groovebox (c. 1998)

Fred (joecacti is his avatar name: fmiller2304 was already taken) has been involved in multiple projects throughout the years including, accompanying Andi Balloun on

From Fran's Furnace , and as a member of ubiquitone . Joecacti's first album, under the title ubiquitone: including was his original funkambient soulpop electronica release, composed mostly on the Roland MC-505 groovebox.

You can find all of this stuff by browsing through the ubiquitone productions pages, there's a whole treasure trove of music from Buffalo Hazard, Andi Balloun, and joecacti himself.

Other projects include Blacksburg Virginia's finest blues revue: Eight to the Bar, and the Powers P. Whiskey Band (a.k.a. Softshoe Hoodlums; Hi Victor!). joecacti has also performed with The Ordinary Way and the Plaid Iguana Project with singer-songwriter Rick Kline and Washington D.C. guitar legend Karl Kushner.

joecacti is currently re-tooling with some gems:

Cowboy Blues
Owner-Operator
Stephanie Lloyd
People Get Ready (Curtis Mayfield classic)
Two Sides (to Every Woman)
Kinosha (Oakley/Miller collaboration)
Omelettes (based on the Absurd theatre of Ionesco)
Heart of Gold (or something like that, I have to find the original chords first...)
Venetian Boat Song (Felix Mendelssohn Op. 30, No. 6.)
PC Pro Am, see below
joecacti says there's going to be a new release after some real good thunderstorms. He says he's got some real gems laying about and he gave me a sample. It's called RC Pro Am and it's about a silly game. And tomatoes. One thing he mentioned was multimedia. He said he wants to make the beltway into a racetrack, and you get points for getting to work faster. Anyhoo, here's the stuff:

QuitMeter Counter courtesy of quitmeter.com.
I have:
| | | | | |
| --- | --- | --- | --- | --- |
| Date | Venue (SetList) | City, State | Quality | Discount |
| 10/13/00 | Zig's Bar | Alexandra, VA | C | 1 disc |
| 5/26/01 | Clifford Park | Amherst, VA | D | 1 disc |
| 6/9/01 | Spring Fling | Victor, WV | | 1 disc |
| 4/13/02 | SSDD | Terra Alta, WV | | 1 disc |
| 4/19/02 | Rhodeside Grill | Arlington, VA | | 2 discs? |
| 5/4/02 | Spring Fling | Kirkersville, OH | | 2 discs |
| 7/6/02 | State Theatre | Falls Church, VA | | 1 disc |
| 8/29/02 | Rhodeside Grill | Arlington, VA | | 2 discs |
| 9/12/02 | Velvet Lounge | Washington, DC | | 2 discs |