Good Summer to All Ubiquitone Fans!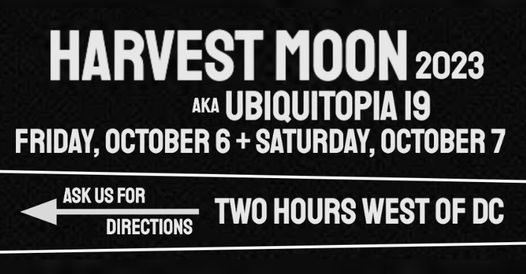 We are excited to invite everyone to the twentiethish annual ubiquitopia, a special music, camping, food, and music weekend on October 6 to 8, 2023 at
The Cove
in beatiful Gore, WV. Many of you will remember The Cove from the Harvest Moon, Soundquilt, and ubiquitopia festivals that we have participated in over the past 20+ years. Check out the
setlists from previous years
!
| | |
| --- | --- |
| We have reserved a large area of the campground for that weekend, and we will rent a generator to run our gear (Picture for reference only. Actual generator may vary). You will only pay the entry fee to the campground, which is $26 (at least) excluding tax. Pets are welcome at no additional charge! And that's the extent of our planning! We'll probably play 1 set on Saturday, with the other bands to jam with or play some sets of their own. Late-nite campfire jams are guaranteed. | |
This is back-country camping, but there are real flushing toilets and showers available within the campground, just a short drive from our camping area. So that's the deal! Please let us know if you have any comments, suggestions, or questions by emailing
the keyboard player
. See you on Friday October 6 for campfire jam, or Saturday the 7th for the main event!
Frandrice Robobrett
Porcine Products et. cetera brought to you by: